NEWS

---

MOWOG NEWS is currently being sent to members via pdf. Look for the link to the web version to come in the future.

STORAGE AREA FOR BBTS EQUIPMENT AND SUPPLIES


On Planting day, May 20th, we learned that the Garage Building at Harkness Memorial State Park is about to have an architectural assessment and undergo some significant remodeling.
This means that everything in the building, including our British By The Sea equipment and supplies, will have to be removed and stored somewhere else, and for a time that we cannot know, beginning on a date we do not know.
Our stuff stored in the two rooms we have been using includes 5 pop-up tents, 6 plastic garbage cans, 15 traffic cones, all our Class and Direction signs, and another half-dozen boxes of administrative and miscellaneous items.
Help! We need storage space, and we may need it immediately. Please call with your offers of space to use and your ideas!!

Steve or Annie Wincze
860-693-42439
MGTD52@COMCAST.NET
We need your photo in Our Cars section of the website! Send them to me and I'll make sure you are represented!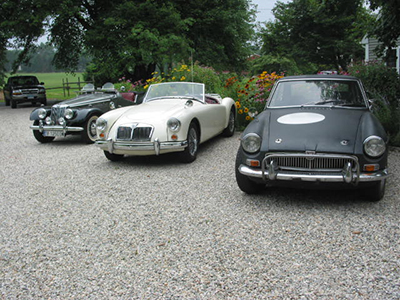 ---
Advanced Dynamo Regulators: New Service Link
REGULATORS AND MORE!
Utility, Efficiency & Reliability
All the products we have developed were made initially for our own cars!  They were designed to be durable and easy to use.  We certainly did not want to have to do the job over again!  We work closely with Classic Dynamo and Regulator Conversions in Lincoln, UK.  They offer excellent service and have been doing electronic conversions of a variety of regulators for a long time.
Regulators
The ADR series of voltage regulators are designed to be durable and efficient.  They have the lowest heat production of any regulator on the market.  This is very important because the ambient temperature in the engine compartment can get quite high, and the heat produced by the regulator itself has nowhere to go, and the temperature of the parts in the regulator can rise much higher yet.  Please refer to our DETAILS link for some more information on the function of these regulators.  This document discusses one particular aspect of regulator design.
We offer new electronic, solid-state, voltage regulators to replace the unreliable original mechanical regulators.  We also provide conversion service of your own Lucas RB-106, and RF-95 style regulators. We also have a small supply of original Lucas RB-106 housings that can be been converted as a drop-in replacement option.  If you have a different type of regulator, we probably can convert it too!  Please contact us with your specific needs. 
Our regulators include new custom-made nickel-plated brass terminals, and brass/nickel-plated brass hardware for a long life and enhanced cosmetic effect.  We also offer these regulators in compact aluminum housings which can fit a wide variety of applications.
These electronic solid-state regulators are compatible with all Lucas-type generators (dynamos) which use "B", "grounded field", or "P" type regulators.  They have current limits ranging from 5 amps to 25 amps. This includes the common C40, C39, and all others found on Triumph, MG, Healey, and sundry other vehicles.   Positive and Negative ground versions are now available.
Regulators we have have immediately available:
5-25 amp, 6 or 12 volt Positive or Negative ground
Regulators in prototype stage, nearly ready for production:
20-50 amp, 6 or 12 volt negative ground
---
British by the Sea

It is time to chip in and make this year's British by the Sea another great success! The new, very clear, volunteering information is on the BBTS page. Please take some time and find out where you can be a part of this year's success!
Entrants come from throughout New England, the Mid-Atlantic States and Canada to take part in this popular event at the beautiful Harkness Memorial State Park. The ample size of the display area allows for Auto products vendors to be located alongside the display vehicles on the field. Spectators are not charged admission to the Gathering, however, the Park will charge a Spectator Parking fee. British By The Sea is held "rain or shine."
You can also walk the beach, or tour the Mansion Eolia and enjoy the gardens that were originally designed by Beatrix Ferrand. For the past 20 years, the CT MG Club has been providing a yearly monetary donation as well as "People Power" to plant the gardens, bringing them back to their original grandeur.
If you wish to attend, you may request additional information and registration materials from the show's co-chairpersons, Annie and Steve Wincze via email at: MGTD52@comcast.net, or via phone at (860) 693-4249. 
---
Special MG Advertisement Series These will change every couple of weeks. Check back soon.
2018 "Rallye for a Cure" to benefit the Juvenile Diabetes Research Foundation
June 16, 2018
Updates to the Website
---
Classified have been updated
Updated For the Good of the Order:
BBTS Coming soon! Check for all of you BBTS needs on the dedicated page.
Calendar is updated
---

The history of the MG - click on the MG graphic above for the video!
For the Good of the Order
| | |
| --- | --- |
| MG Brand is on the move! | |
---