The Classifieds
---
The SWAP MEET 2017

The Classified ads will be removed automatically on the expiry date, but we would appreciate it if you should sell, or buy the item(s) advertised, please let me know.

We suggest that personal classified ads have a full description of the item For Sale or Wanted, and it includes your email address, your telephone number, price expected (For Sale item), and the Town/State you are in.

Beware of buyers who offer to pay full price for an item, sometimes with an additional amount to cover shipping or other costs, and paying with a cashiers check. They will later ask for a partial or full refund before their initial payment has worked its way through the banking system. There may be a sense of urgency in completing the transaction and little interest in the details of the purchase. This is a common eBay scam that has made its way to MarketPlace. Always take payments like this to your bank to verify authenticity and wait at least ten days to two weeks for the check to clear. Be wary of buyers who ask for account information in order to wire funds to your bank. Remember, if a deal seems too good to be true, it probably is.
CT MG CLUB – Classifieds
 1951 MG TD Dark red Two-seat Roadster, top condition, rebuilt engine. Tan leather and new carpets, Eisenglass windows.Added left mirror and driving lights. New paint job. PRICE NEGOTIABLE. Contact Jeff, jmoeckel@comcast.net (860) 663-2703, (860) 280-7638
1971 MG Midget. Green with saddle interior. Chrome wire wheels and chrome bumpers. Original owner. 38,100 miles. Garaged 45 years. No rust but could use a paint job. New top and tires. Tonneau cover, complete car cover, and shop manual included Price Reduced ! $4750.00or best offer. Call Bruce Lundgren at 860-779-1460, email brucelundgren@sbcglobal.net.(11/15)
1973 MGB

- My father, David Martin, just passed and I have his 73 MGB in Ct Some of you may have known him and the work he had on his cars. I have his 74 Fiat Pina Farino  in Florida also. I would like to sell them to someone who appreciates them and get my kids something more practical for ME. Please contact me if interested by phone or email. 860- 673-3011.
1974 MG Midge

t with Tonneau cover, new top, new tires, new battery, new exhaust system, and new paint, excellent condition. Asking $4,500 Or Best Offer. If Interested, Call Victor at 860-974-9111 or by email: victor2730@snet.net
1974 MGB

Originally a North Carolina car this car was fully restored several years ago. I have owned it for the past 19 years but it has been sitting a lot the last few years and really needs to be driven. (I may have put 50 miles on it last year). It's time for a new home. It's a solid driver with around 12,000 miles on the rebuild. It has a few scratches & is always garaged. Asking $8,500. Cash Only. Serious inquiries only please. Offers will be considered. The car is in Barkhamsted, CT. If interested please contact Michael: mccvi2@gmail.com or 860-539-7352 & leave a message. photos at ctmgclub.com (4/17)
1975 MG Midget

with 40 K miles on it that I would like to sell. Every replaceable mechanical part on the car has been replaced. It starts right up but has not been driven for over 2 years. I would like $1800.00 for it. Possible trades considered. Located in Middlebury, CT, rick-fernandez@comcast.net (1/17)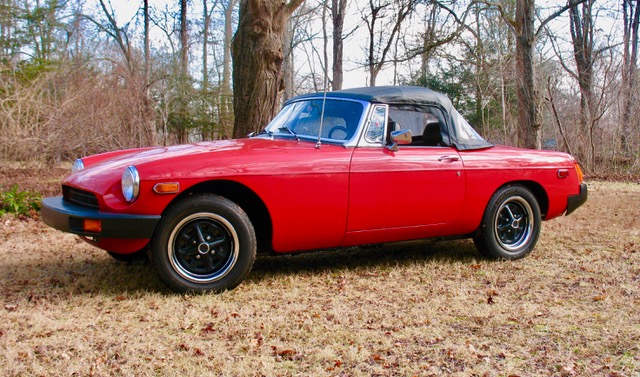 1977 MGB with 69000 miles. 13000 miles since extensive restoration including Quarter panels, dog legs & rocker panels Seats and carpets Robbins convertible top New clutch, master cylinder & slave Rebuilt HS4 SU carburators SU fuel pump with additional switched Facet pumpFuel tankAlternator Pertronix distributor & sport coil, Urethane suspension bushings & seals, Undercoated with Waxoil Gas hood & trunk lid struts, Cooper tires. Garage kept last 10 years Runs well. Asking $11000 Contact Jim Wiebe jwiebe@snet.net 203 584 6234
1977 MGB Roadster

; Orange/black, 59,000 miles -always garaged, no rust. all new hoses and belts, rebuilt front end, cockpit cover, new brakes, carb rebuilt. new battery; $6500.00; call John Curtiss @ 860-984-3391 jtcurtiss@gmail.com
1977 MGB

with Hard Top, I am original owner. New Top, New Battery, Tonneau cover..Car always garaged. Asking $8,650, Offers will be considered. Car located in Woodstock, CT. If Interested, Call: 860-974-9111 or by email: vjstrama@gmail.com
1977 MGB

restored in 2001 new floors, trunk lid, hood, windshield, seat covers, and paint. This car is a summer car and since its restoration has never seen rain or any inclement weather. It is always garaged. During the restoration it was partially rewired so it starts every time and all of the lights work. Last year I replaced the gages with auto meter gages for the temp, alternator, gas, and oil pressure. I also have the original gages. I have owned the car for 19 years, it has been a fun summer car and still looks and runs great. I am asking $8,000.00. If interested please call 401-932-0493. I also have the restoration before and after pictures.
1980 MGB

  Only 23,000 original miles, rare collector quality, original paint, never any bodywork, gorgeous blue color, excellent condition, rust-free, beautiful interior, new carpeting throughout, new convertible top, new tires, mechanically perfect to ensure problem-free driving- new stainless steel performance exhaust system, new brakes, electronic ignition, all new hoses, bushings, shocks, etc. too much to list. Need to sell my baby- moving. great price just $ 18,500. Contact Joel: jmalkoff@hotmail.com



MG TD Parts

Top Frame , 2 or 3 bow $200.00, MG TD good Tub needs Some metal work $895.00, MG TD rolling chassis $1100.00, Front & rear Fenders & Rear Apron . Tub rails,Doors, bonnets, Spare tire rack , Engine blocks & connecting rods & lots more MG TF rear apron $135.00. Austin Healey 3000 BJ7 BJ8 Driveshaft, TR6 4 Speed Transmission $200.00 MGB Parts, Old oil coolers & related parts, seat slides, Wire & steel wheels,SU & Zenith Carburetors & Manifolds , Top Frames & Tonneau Bars, Steering wheels, Steering Racks, Battery covers, ,& lots more. MG Midget Austin Healey Sprite Parts SU & Zenith Carburetors & Manifolds & lots more. Fred Bauer 860-304-3568 , snitzelbros@comcast.net Retired call any time
Misc MGB parts:

MGB oil cooler and hoses, 16 (row stock is 13) like new $75. 155-14 Michelin tire and tube, good tread, no cracks, but old. Probably best for spare. $20. Call Francis, 203-546-8518 after 5 PM
5 MGB wheels

for sale that I took off the car. I believe they are early style steel wheels from MGB. They have been powder coated and come with tubes, hub caps and lug nuts.Asking $10.00 (ten) for everything!!! Just do not want to throw them away. Negotiable 860-304-0478 , acjflorida@comcast.net
1973 MGB Parts

I received with that purchase some extra parts for that car. Dual Hoop Boss Frog roll bar. $300, Hardtop made by Custom Hardtops. $250 Tonneau cover No headrest pockets $100, Front spoiler. $50 Two seats, only good for frames. Not sure of year. One has headrest slot, but no headrest. Other has no headrest slot. $40 Call or text me with any questions. 860 471-7551 parts located in Stafford Springs CT
MGA Parts

: Shelves full of MGA parts, to many to list all. 1500 Block, Heads, Rods, Pistons, Carbs, primed hood, Rear End, Transmission and much more. Email or call for what you need. Cell: 936-443-8523 Email: patmac@consolidated.net
Free Stuff

FREE: a milk crate full of Sacred Octagon magazines.Bill Brauch. wb2@brauchauto.com
Parts Wanted
Cars Wanted
British Cars wanted, any condition, project cars, running or not.
Ed Cooke 860-306-8066 or edcooke@snet.net (5/16)
( If you sell your item, please let the editor know. If you want to resubmit or send in another ad, it will run for 3 issues, maybe more if space allows!)
( If you sell your item, please let the editor know. If you want to resubmit or send in another ad, it will run for 3 months, maybe more if space allows!)