The Classified ads will be removed automatically on the expiry date, but we would appreciate it if you should sell, or buy the item(s) advertised, please let me know. We suggest that personal classified ads have a full description of the item For Sale or Wanted, and it includes your email address, your telephone number, price expected (For Sale item), and the Town/State you are in. Beware of buyers who offer to pay full price for an item, sometimes with an additional amount to cover shipping or other costs, and paying with a cashiers check. They will later ask for a partial or full refund before their initial payment has worked its way through the banking system. There may be a sense of urgency in completing the transaction and little interest in the details of the purchase. This is a common eBay scam that has made its way to MarketPlace. Always take payments like this to your bank to verify authenticity and wait at least ten days to two weeks for the check to clear. Be wary of buyers who ask for account information in order to wire funds to your bank. Remember, if a deal seems too good to be true, it probably is. If you have questions about a buyer or feel you may have a scammer, refer to this handy publication by the Federal Trade Commission on Identity Theft.
Cars for Sale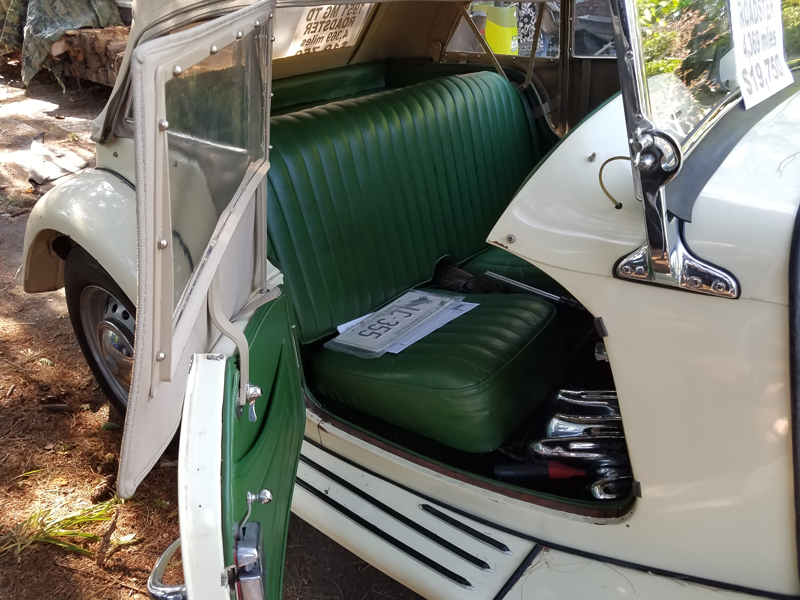 1951 MG-TD FOR SALE Ivory, with green interior, all fluids changed, good condition, runs well, new battery. Odometer shows 4,369., $19,750 OBO Located in Simsbury CT, Call Darlene for more details, 860-202-8843
1955 MGTF 1500 for sale $24K or best offer. Black with red upholstery. Very good mechanical and running condition. Owned since 1964, rebuilt in 1972 including engine overhaul. Mileage under 90,00 with low miles since rebuild. Removable hard top included which needs some work. Bob Czarnecki Colchester CT 860-603-6142 (4/20)
1959 MGARolling body with transmission, engine, hood, trunk lid, radiator & more. Call or email for photos. Brad Ferguson, 860-599-0123, wbfct6@aol.com (3/20)
MG Midget 1965 For sale. $3500 or best offer. Been part of the family since 1976. Everything works, some mars but overall looks great, and it's a runner. Electronic ignition added. Also many parts and tools including transmission, doors, differential, luggage rack. Michael Tierney Niantic CT. 860-944-4264
1967 MGB "complete" car but has been taken apart – interior, motor and tranny are out of the car. The body was "probably shot" and that there was rust on the cross members but the car does have a valid registration. Call Jeramiah 845 476-5540.
1968 MGB10 year Owner. VIN:GHD4M142622G. 101,000 miles on clock. Color repaint original color Tartan Red. Rust areas repaired British Heritage panels 2009 by seller New English Classics, Stratford, CT. New Wire Wheels and hubs by Owner with meticulous maintenance by Owner and all professional repairs including stem to stern mechanical repairs and upgrades by Dave Icaza, D&J Restoration, Manchester, CT., most recently in October 2018. Strong runner, this car is ready for the road! Car is in Trumbull, CT. Michael Muir 203-268-4891. Email mdmuir@sbcglobal.net. Reason for selling, Owner is now 84 and health issues loom. Asking $14,000.
1970 MGB roadsterwith custom yellow paint, black leather interior and canvas convertible top. Car has chrome wire wheels and white wall tires. Motor has been rebuilt with new weber carburetor. The four speed transmission has new seals and synchros and the overdrive was rebuilt last year at Quantum Mechanics in Ct. Clutch, pressure plate and throwout bearing were replaced at the same time. Front end was recently rebuilt with new calipers. Starter has been rebuilt, a new oil cooler added along with a recored radiator. Brake and slave master cylinders have been replaced. Car looks and drives excellent. Asking $10,500.00 Call Andre de la Chevrotiere at 203-815-9748
1970 MGB VIN GHN5UA203522G Color BMW yellow. Body Completely disassembled and rebuilt. Engine rebuilt with ring job.. Dual carburetors have been replaced with single Weber. Tonneau frame and cover, new top, roll bar, wire wheels. Owned since 1971. Always garaged. Only driven about 1000 miles since rebuilds. Martin Waine 203-326- 1722 mwaine@optonline.net Reason for selling, owner 86. It's now hard to get in or out. I have lots of pictures. Car is in Greenwich. $12,000. (1/20)
1972 MGB-GTparts car or restore, also car trailer used to transport MGB to Limerock Offers, llaiacona@sbcglobal.net or call Phil 203-268-9668
1976 MGB Red/Black vinyl bumpers, Same owner since 1986 and always garaged. Engine rebuilt in Spring 2019 with all service records available. A very SWEET looking car. Tonneau cover, vinyl top/frame and top boot cover in very good shape. Time to sell: New house and not enough garage space. This is a great car to enjoy the Summer and also own a price of British history. $5500. Car is in Milford. Lots of pictures. Call Scott at 203-512-2270 / wallman@us.ibm.com. (6/20)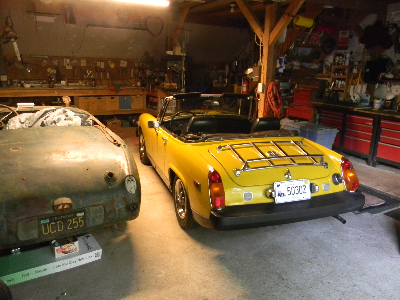 MG Midget63,000 miles, Inca yellow, insured and on the road, located in Westbrook. Make an offer Contact Ron(6/20)
Parts for Sale
Jon's MGB Parts Yard/Trailer open for your convenience. I'm still having the Tag Sale November 9-10 from 9-3 each day at 62 Ridgefield Street, Meriden, Ct. 06450 Coffee & Donuts, All sales Cash or good checks for larger items. Most items are for MGB and BGT models, complete cars , rolling chassis, new & used parts, engines, transmissions, body parts, V-8 conversion parts, tools. If you need it I probably have it. Fairest prices around and lots of MG conversation. Email:healey3000@sbcglobal.net or Call: Jon Day @ 203-631-2838 (5/19)
MGB Wire wheel set with hubs & knock offs. MG TD Parts 2& 3 bow top frames, $175.00 front rear fenders, rear apron, ,tub rales ,seat slides, doors, spare tire rack, brake drums, side curtain frames, gas tanks engine blocks , rods , heads & gaskets rocker & cam shafts, Drive shafts, & more. MG TF Rear apron & 1 rear side curtain. MG TC Engine block & drive shaft, MGB zenith & SU carburetor parts, top frames, steering wheels oil coolers & hoses, Manifolds, Steering racks, battery covers, dash boards, MGA steering racks, 'TR6 top frame & spitfire top frame, Austin Healey 3000 drive shaft & late 6 cylinder head Fred Bauer Retired snitzelbros@comcast.net 860 304 3568
Moss Air Conditioner Kit for MGBComplete used Moss A/C system, fully operational. In excellent condition. Rarely used. $495 OBO. sullivas@optonline.net
MGB/Miata 2 sets 2 sets of adapter plates for mounting early generation Miata seats in MGB directly in MGB, using existing MGB Threaded holes. $425.00 860 304 3568 snitzelbros@comcast.net
MG TF hoodTan vinyl with matching side curtain covers (frames not included) used but in good condition, make an offer. Duane Adams, dpajradams@comcast.net
MG TF 1954 parts Complete engine 2500.00 Transmission 700.00 Top frame 185, side curtains 250,air cleaners 200, complete windshield 1200,frame, chassis 585,& more. Fred , do not text , call 860 304 3568
I have a top frame for a 1600 MGA and a complete front bumper for a '73 MGB looking for a good home.Tom McNamara - contact him if interested.
Parts Wanted
1967 MGB Hardtop I'm looking for a hard top for my 1967 MGB if anybody in the club has one. Give me a call at 860-307-1271 thanks. Dave Cote
Cars Wanted
British Cars wanted, any condition, project cars, running or not. Ed Cooke 860-306-8066 or edcooke@snet.net
1970 - 1974 MGB or BGT in need of an engine, as I have a freshly rebuild '72 engine looking for a home. Looking for something with minimal rust, but ok if other work is needed. Brian - 203.641.5082 or bplavoie@yahoo.com. (6/20)
Members Services
Restoration Services: With my retirement from HVAC I have time to offer Mechanical and Restoration Services to CT MG Club Members. I have 47 years experience working on and restoring LBC's. We can do small jobs to full blown award winning restorations at more than reasonable pricing. Call or Email and let's discuss your project needs. Jon Day Cell: 203-631-2838 or Email: healey3000@sbcglobal.net
Car Storage 1 or 2 car garage available South Glastonbury, CT Private oversized two car garage for storage. We can rent 1 bay $150 or 2 bays w/ work bench $275, safe residential neighborhood, not a commercial location. Call Joe 203-676-5801 (6/20)
Item is Sold
If you sell your item, please let the editor know. If you want to resubmit or send in another ad, it will run for 3 issues, maybe more if space allows!
Item is Sold
If you sell your item, please let the editor know. If you want to resubmit or send in another ad, it will run for 3 issues, maybe more if space allows!
Item is Sold
If you sell your item, please let the editor know. If you want to resubmit or send in another ad, it will run for 3 issues, maybe more if space allows!